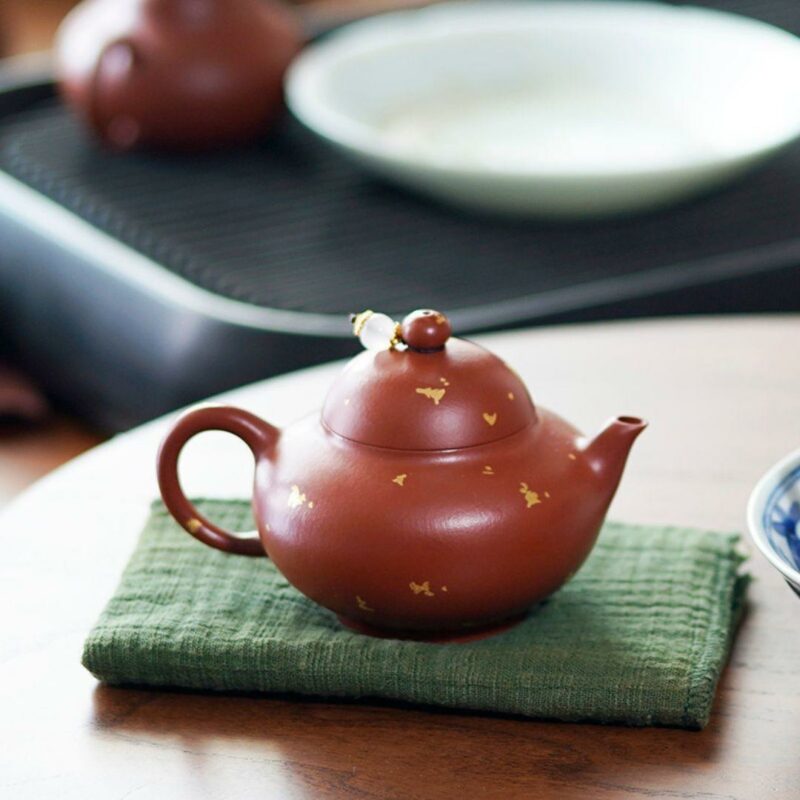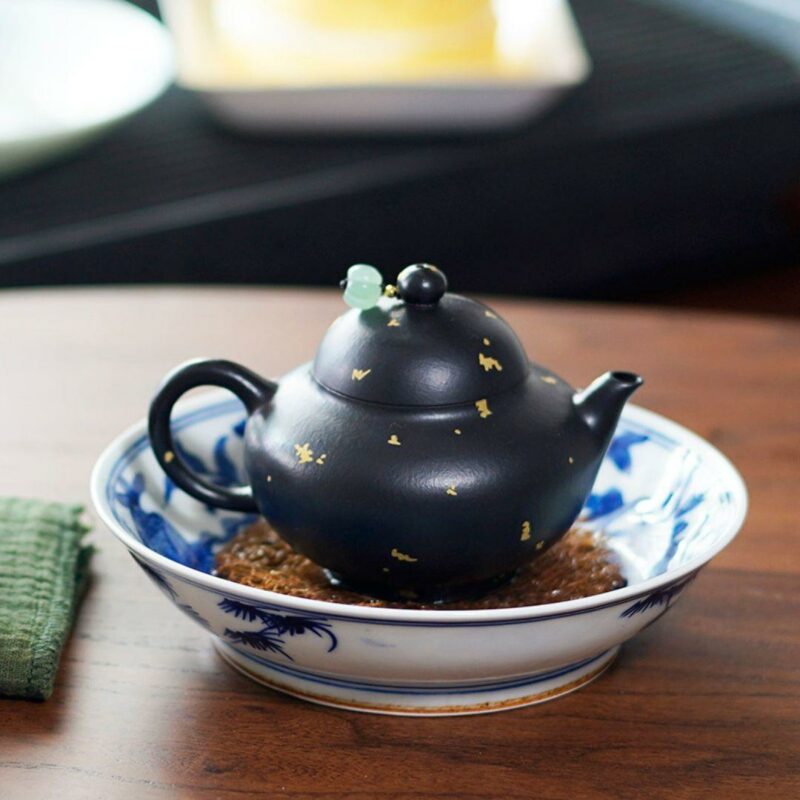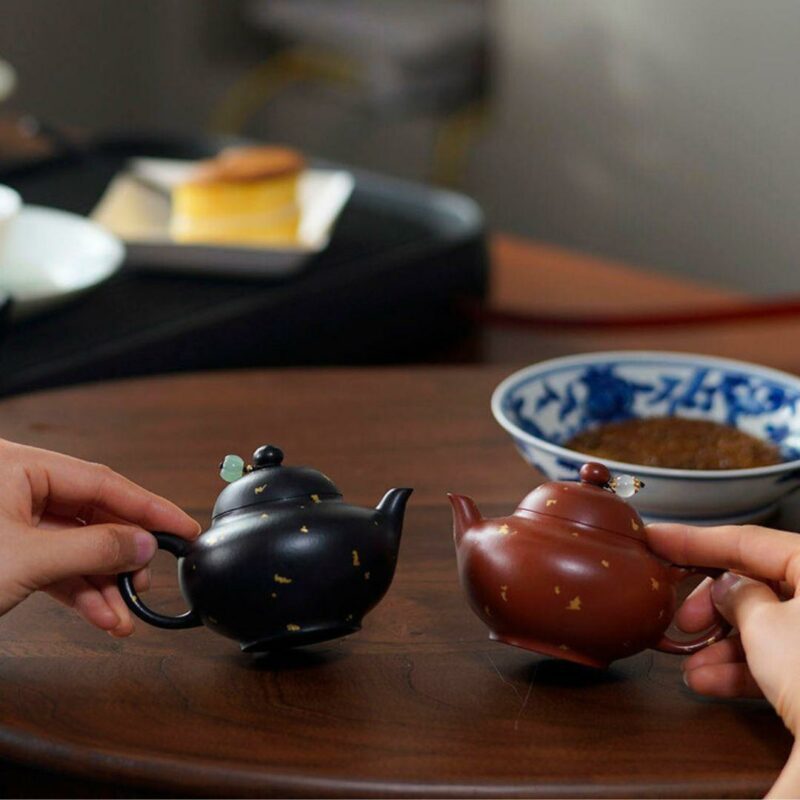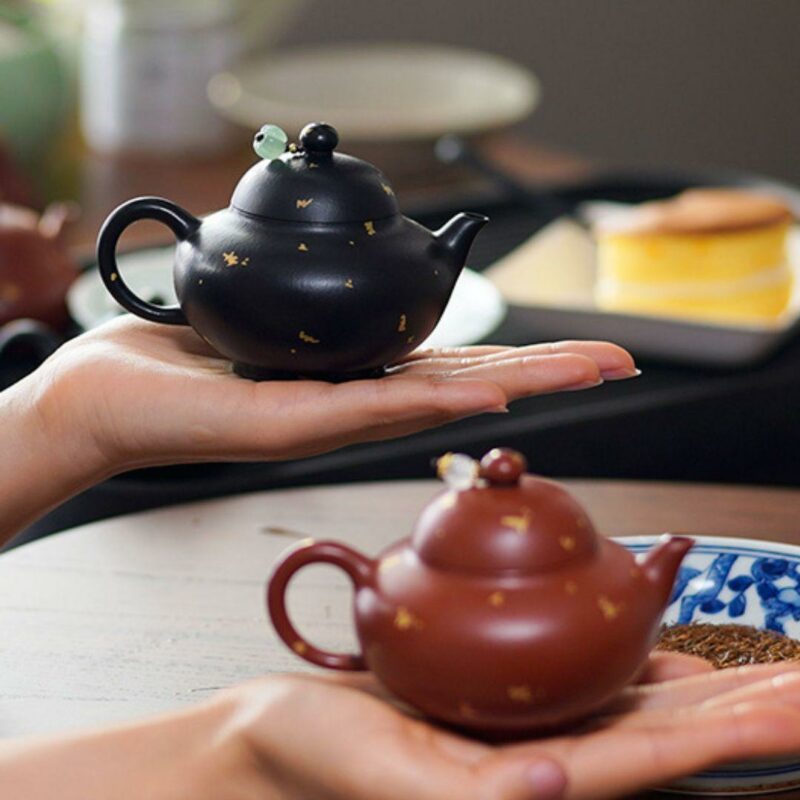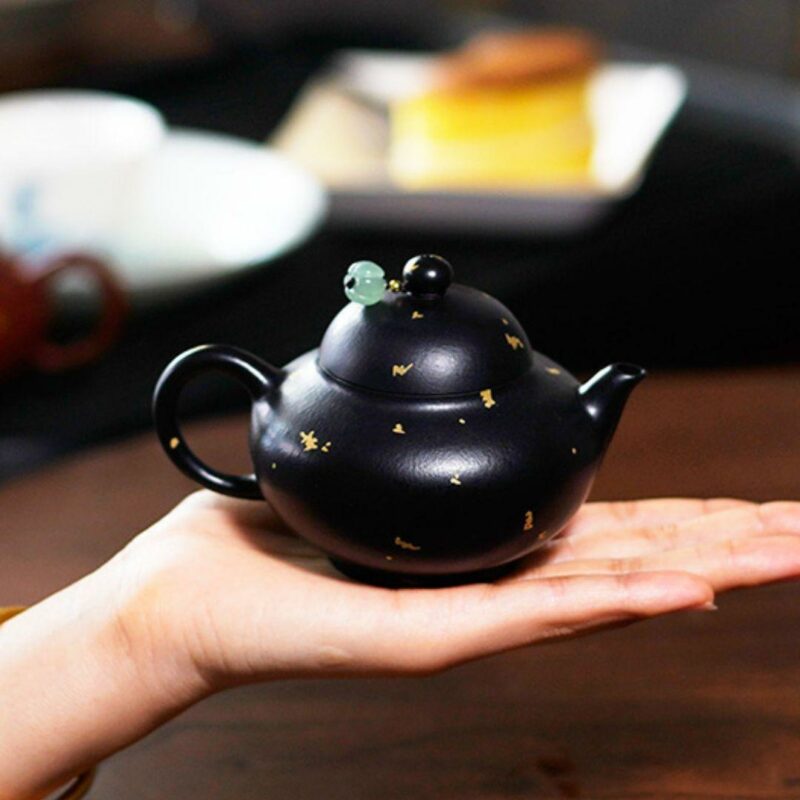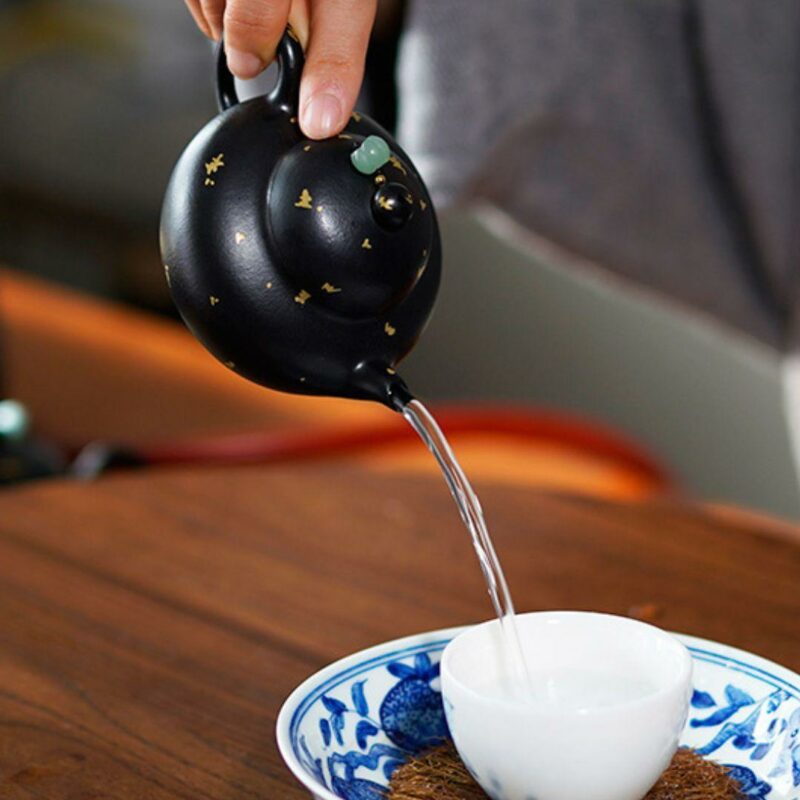 Zhuni Gold Flakes 150ml Hua Ying Yixing Teapot
$149.00 – $169.00
Highlights: Semi Handmade
Size: 150ml
Material: Zhuni
Filter: Net filter
Origin: Yixing
Packing list: With gift box

Description
Introducing the Semi Handmade Zhuni Gold Flakes 150ml Hua Ying Yixing Teapot, a beautiful piece of art that you can use to brew your favorite tea. This teapot comes in two styles – the red one made of normal zhuni with gold flakes, and the black one made of Wu Hui zhuni with gold flakes.
Unique Wu Hui Technique:
The black Wu Hui zhuni teapot is made using a traditional Chinese ceramic-making method that uses a special process to create pottery with a black or dark grey color. This special process involves placing the pottery in a sealed container with charcoal or wood ash and firing it at low temperatures in a low-oxygen environment. This gives the pottery its unique color, which is lively and dynamic. The process doesn't involve any harmful chemicals and is safe for use.
Elegant Hua Ying Teapot:
The Hua Ying Teapot is a type of Yixing teapot designed by the master potter Gu Jingzhou, based on traditional teapot designs. This teapot has a round body with a rounded lid and handle, and three circular layers that stack on top of each other, giving it a graceful and elegant appearance like a budding flower. The body of the teapot is full, and the knob on the lid is round and smooth like a pearl, making it stand out. The design of the lid and spout ensures that the teapot is airtight, while the short spout and small round handle give it a cute and charming look that is loved by many.
Brew Your Favorite Tea:
Not only is this Semi Handmade Zhuni Gold Flakes 150ml Hua Ying Yixing Teapot a beautiful piece of art, it is also functional and perfect for brewing your favorite tea. The teapot is made from high-quality materials and is designed to retain heat, allowing your tea to stay warm for longer periods of time. The gold flakes add a touch of luxury to the teapot, making it an ideal gift for anyone who loves tea.
The Semi Handmade Zhuni Gold Flakes 150ml Hua Ying Yixing Teapot is a beautiful and functional teapot that is perfect for brewing your favorite tea. The unique Wu Hui technique gives the black teapot its lively and dynamic appearance, while the elegant Hua Ying design makes it stand out. Get yours today and enjoy a cup of tea in style!
Additional information
| | |
| --- | --- |
| Option: Style 1 | Style 1, Style 2 |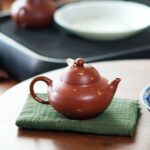 Zhuni Gold Flakes 150ml Hua Ying Yixing Teapot
Your review
* Review is required
Email
* Email is required
Add photos or video to your review
Authentic Yixing Crafts
At China Tea Spirit, we believe that Yixing teapots need to be both functional and artistic. We are committed to providing our customers with the highest quality Yixing teapots. That's why we only work with talented and skillful Yixing local tea ware artists who have years of dedication to this art.
Our teapots are either full handmade or half handmade, ensuring that each piece is crafted with the utmost care and attention to detail. All product images are captured from the actual items.
We only use authentic Yixing clay, we do not use any chemical addictives in the crafting process.