Meet our tea ware artists
When it comes to Gong Fu tea ware, you can't miss to mention Jingdezhen.
This place has been historically known as China's porcelain capital, for its one of a kind vintage aesthetics and finest quality of the teawares. And it's still a vibrant city nowadays. Some talented young artists have inherited the merit of the past and added in their own modern aesthetics, and formed an unique Neo Jingdezhen style. They are rare and precious, like a pearl in this city.
We are on a mission to bring this beauty to the world, let us introduce them to you.
Artist Zhang Zhe
I believe the art comes from the real life. Most of my design inspiration comes from the flowers, birds and fishes I saw in my life.
Artist Zhang is old friend of us. When we first met Artist Zhang a few years ago, he was doing the hand painting on a fairy crane series tea boat. He was so dedicated that wasn't aware of us coming.
Walking to Zhang's studio, an exquisite Gaiwan with Hydrangea painting caught my attention. I never saw a teaware like this beautiful and delicate. The painting looked so vividly that I immediately understand Zhang took inspiration from the Hydrangea flower in his backyard.
Zhang told us that he believed art must have a root in people's daily life. That's how his art can communicate with and resonate among people. While his work look premium and sophisticated, they are also reachable and accessible. "I hope more people can appreciate the beauty of handmade teawares".
Check Zhang's work exclusively in our Neo Classic teaware series.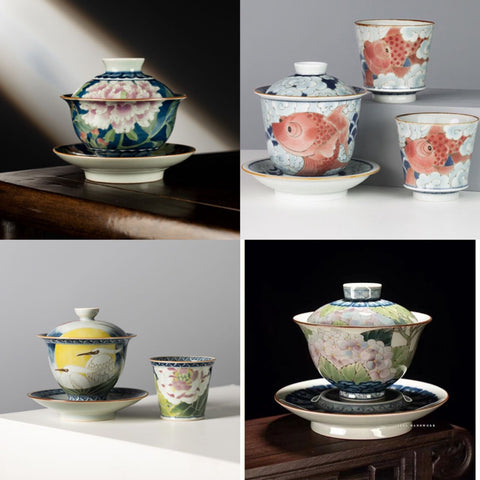 Artist Qian Wen Liang
I make ceramic Chinese mythical creatures as tea pets and tea ornaments. These creatures are something I've been fascinated about since very little.
Kungfu tea is not just about Gaiwan and teapot. It's also a convention to keep tea pets, incense holders and other tea ornaments, to add fun to the tea session or bring us peace in a Zen mood.
Artist Qian is an artist that creates tea pets and ornaments from traditional Chinese mythical creatures. He lives with his wife in Jingdezhen for 12 years.
Since very young, Qian has developed a great interesting into the Chinese mythology culture. "Zhongkui, Pixiu, Bixi, Suanni… these amazing characters in the mythology stories have been my design inspiration for years"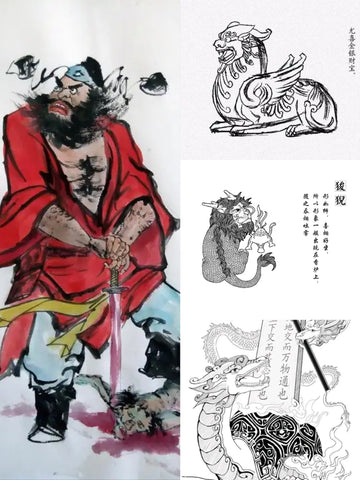 Qian's work have a unique style that can be immediately recognized. The characters he designs are some sacred and ferocious mythical beasts. There are a lot of details in his work. The body, the hair, the face expression. All these require very high level experience, creativity and techniques. Some work take months to finish.
Check Qian's work exclusively in our Chinese Mythology series.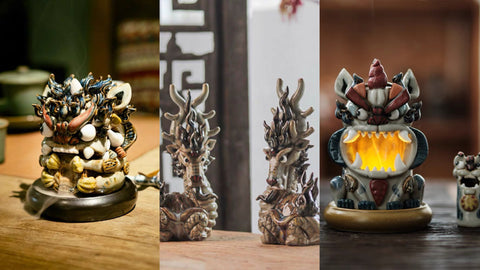 Artist Iron Chen
I'm making ceramic animals for my daughter.
Iron is a ceramic artist, he and wife have been in the industry for 10 years. 3 years ago they had their lovely daughter, who showed great love towards animals. "That's when I thought maybe I could use my profession to do something for my daughter, to keep her company with great memories".
Iron is known for designing chubby animals. The tiger, lion etc. they all have a chubby adorable look which putting on tea table brings you so much fun.
Check Iron's work exclusively in our Fun Tea Pet & Ornament series.